Last year was my first year vending at the 60th Florida Folk Festival. My sister, Betsy, braved excessive heat, voracious ticks, all night music jams and primitive camping at the Florida State Park Stephen Foster Cultural Center for three nights and four days.
This Memorial Day Weekend I'll be vending at the 61st Florida Folk Festival. I feel honored to have been invited back. Betsy won't be attending with me however. This year she's taking my 90 year old father to a wedding on Saturday afternoon. Not hers. Or his. Perhaps she'll drive three hours each way to attend the festival on Sunday. She says she wants to.
Last year Betsy was useless when it came to demonstrating my wares. She couldn't even get seashell pasta to squeak, let alone make a loud whistle sound. But that's OK because she stayed at my booth while I used the restroom or got a bite to eat. She smiled and chatted with people and let them know I'd be right back. That's invaluable for a solo vendor like me. And she was and is great company.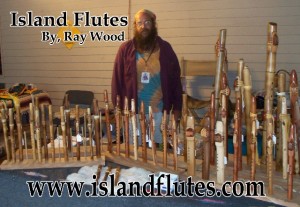 Ray Wood is a Native American Flute Maker. And even though he's not Native American  he takes his craft very seriously. He makes beautiful sounding and looking wood and bamboo flutes. Ray has been my vending coach since I began vending Florida music festivals. He was and still is very strict. In the beginning I tended to wander away from my booth in order to catch performers or talk with other vendors. Ray reeled me in, saying it was my responsibility to be at my booth during business hours.
Ray believes everyone has a unique purpose and mission in life. As I understand him he believes his mission is to be there for people searching for their higher purpose in life. He does this by showing them the beauty he has found in flute making and in the playing of his instruments. Ray doesn't use music notation to play by. He advises people to follow their heart and feelings to make and play music. He tells people his story. Some get it. I bought my first NAF flute from Ray a few weeks ago. Thanks Ray. I get it. Sort of.
I have no idea what my higher purpose in life is. I stumbled upon my discoveries and I've enjoyed developing and bringing them to the market place. I've met wonderful vendors and mentors and have marveled at the skills and luck necessary to create  a successful business. I'm still working to create a successful business. Ray has inspired me. Thanks Ray. I'm working on it. More or less. Sort of. Just trying to figure it out.
When people ask me how I discovered my seashell flutes I tell them the story about how I learned to whistle with an acorn cap, in PA, from my nephew, Jon, and how I transferred that skill to a seashell (small clam shell) during a Florida vacation in 2003 because I wanted to communicate with wild dolphins. The dolphins whistled back. I went to a Florida shell shop, tested a bunch of shells for sound making capabilities, took them back to Cape Cod, drilled finger pitch holes in some and discovered the musical scales inside three different species of seashells.
Notes of interest:  the seashell species Terebra Turritella hasn't changed it's shape for 65 (more or less) million years.  That means that the capability to express the pentatonic, diatonic and chromatic musical scales has been available and accessible on earth for 65 or so million years. That means that the musical scales are natural and very old indeed.